Please join the Fund for a Better Waterfront and the Eastern Environmental Law Center (EELC) on Tuesday, December 11, 2012, 7 PM for our Hoboken's Waterfront Parks in Peril fundraising event at the Elks Club. FBW with legal representation from EELC has been working overtime to avert a series of proposals that would be disastrous for Hoboken and its waterfront:
We can remedy these ill-conceived proposals but need your support to do so. We have invited several speakers and there will, of course, be food, drink and entertainment. This will be a fun-filled event for a serious cause.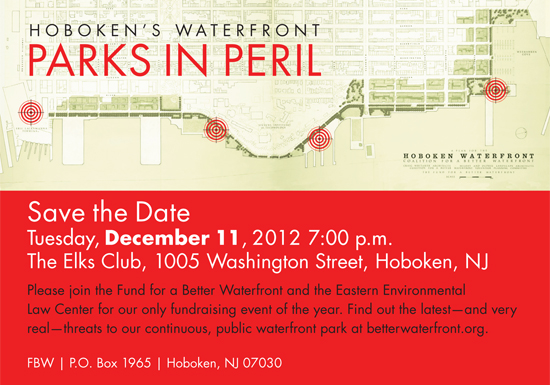 FBW and EELC are both 501(c)(3) nonprofit organizations. FBW was established in 1990 to secure a waterfront along New Jersey's Hudson River accessible to all for the generations to come.
EELC
is a public interest law firm located in Newark, NJ, working on behalf of environmental and conservation organizations to protect communities, open space, wildlife and public health of the eastern United States.